Holographic Methods
Course Outline
Instructor: R. S. Lakes, Professor of Engineering
Text: Hariharan, P. Optical Holography, Cambridge University Press, 1984.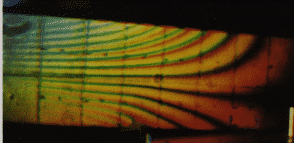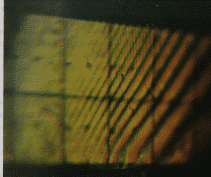 The fringes represent deformation of a bent bar. Both images were derived from the same hologram. The hologram was made with red laser light and was illuminated with white light. The image on the left is of the hologram illuminated with conjugate white light. The image on the right is of the hologram illuminated with oblique white light. The neutral axis of bending is revealed by the absence of color dispersion along the horizontal center line.

Supplement -- Shelton article page -bone plate fringe image , holography in orthopaedics; fringe pattern images for metal, polyethylene bone plugs. Articles: applications, biomechanics, fracture fixation, medical imaging, osteology, digital storage, teeth, three-dimensional printing. Exams

Description: Concepts of diffraction and wavefront reconstruction; in-line and off-axis holograms; methods for producing white-light viewable holograms, including Benton, open- aperture, and Denisyuk holograms. Applications of holography in experimental deformation analysis of solids, display, data storage, and image processing. Applications of holography in analysis and quality control of orthopaedic implants, data display in diagnostic medical imaging, and analysis of tissue in vitro and in vivo. Prerequisites by topic: Engineering physics or optics.
Laboratory reports: Reports are due two weeks after the laboratory session is held. Report grades will be reduced by 10% for each working week of additional delay. Since the laboratory segment constitutes a substantial portion of the course, it is recommended that attention be directed toward the preparation of clear, understandable reports.



Experiments: Experiments [four to six] are to be selected from the following list.
Interference and diffraction
Off-axis hologram
Image plane hologram
Holographic optical elements
Optical image processing
Optical data storage
Benton hologram
Pattern recognition
Holographic interferometry
Interpretation of holographic interferograms
Determination of tissue properties
Correction of aberrations
Evaluation of tissue- biomaterial interface
Color holography
Evaluation of cellular biomaterials


Course Outline: [Chapters refer to the text]
1 Introduction. Waves. Diffraction and interference.
Development of holography. Ch. 1,2
2 Cosine grating: formation of and diffraction from grating.
3 Zone plate. Linear hologram formation. Encoding of depth. Ch. 3
4 Laser safety. Ch. 5
5 Ray tracing. Prediction of image point location. Ch. 4
6 Types of hologram. Analysis of Fresnel off-axis hologram Ch. 4
and image plane hologram. Image blur and aberrations. [1], [[section]] 14
7 Recording media. Ch. 6; [1], [[section]]6
8 Lasers. Laser characteristics. Applications in measurements, Ch. 5
in holography, and in surgery.
9 Holographic interferometry. Fringe formation and interpretation Ch. 14
by zero order fringe method, fringe counting method. [2], 4.1
Applications in machinery, in implants, and in biomechanics. Ch. 15; [4]
10 Display holography. Applications. Ch. 8,9,12.
References:
[1] Saxby, G., Practical Holography, Prentice Hall, 1988.
[2] Schumann, W. and Dubas, M., Holographic Interferometry, Springer, 1979.
[3] Schumann, W., Zürcher, J. P., and Cuche, D., Holography and Deformation Analysis, Springer, 1985.
[4] Von Bally, G., ed., Holography in Medicine and Biology, Springer, 1979