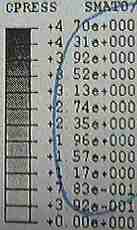 A10 is a figure legend for a calculated pressure distribution. 1.17e+000 is a painful and ugly way to say 1.17.


This table, in addition to painful FORTRAN notation, provides no units so the reader cannot interpret the numbers. There are also too many digits, far more than the precision warrants.


Painful ways of representing numbers can slow you down.
All the prior diagrams are real diagrams, but mercifully this is not a real speed limit sign.