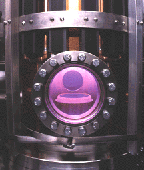 Photo: Multidipole- confined RF Inductive (MRFI) plasma source with magnetic bucket confinement, silicon wafer with separate RF self-bias supply and electrostatic chuck.
Mission
The Plasma Engineering Research Center is dedicated to the advancement of Plasma-Aided Manufacturing in U.S. Industries and in the World. Plasmas are ionized gases and common examples of plasmas are fluorescent lights, lightning and auroral glows. In manufacturing, plasmas generate intense UV light used to dry inks in the printing industry, plasmas change the surface chemsitry of polymers for improved packaging and plasmas etch sub-micron structures for the micro-electronics industry. (The CPU and memory chips used in desk-top computers are etched by a plasma.)

Profile
The ERC for Plasma-Aided Manufacturing is composed of five Thrust Areas - Plasma Etching, Plasma Deposition, Thermal Plasmas, Plasma Modification of Surfaces and Education - and four Support Groups - Diagnostics, Theory & Modeling, Statistics and Real Time Control.
The ERC-PAM headquarters is located at the University of Wisconsin in Madison Wisconsin. Major Research laboratories are located at the University of Wisconsin-Madison and University of Minnesota - Minneapolis.
Five Universities; University of Wisconsin, University of Minnesota, University of Illinois, Stanford University and University of California at Los Angeles conduct research under the umbrella of the ERC. Thirty industrial companies participate in ERC activities by providing membership fees, research contracts, student internships and direction.
The ERC-PAM was originally formed in 1988 by the University of Wisconsin and the University of Minnesota with funding from the National Sciences Foundation and Industry.